A positive aspect to being stuck at home over the last few months is that many of us have had time to research our dream house, right down to the gloss level of the kitchen cabinets.
This, coupled with the advantage of being able to research any item at length, while sitting on your sofa has meant that more and more of us are looking to customise our living spaces. Motivations vary; from wanting to get the most from the available space to wanting to stand out as a fashionista– the possibilities are endless.
No matter what drives you, there is almost an unlimited amount of ideas to draw from.
Here in Ireland there are also several other factors to consider when looking to design a dream living environment. First of all, space is now at a premium. We have seen new house sizes drop dramatically in a very short time – one fifth reduction in only 2 years.
Not only are new houses getting smaller, households are rising for the first time in 50 years. More Irish youngsters are choosing to stay in the nest longer, on average up to the age of 26. Now more than ever, house owners need to make the most of the space they have.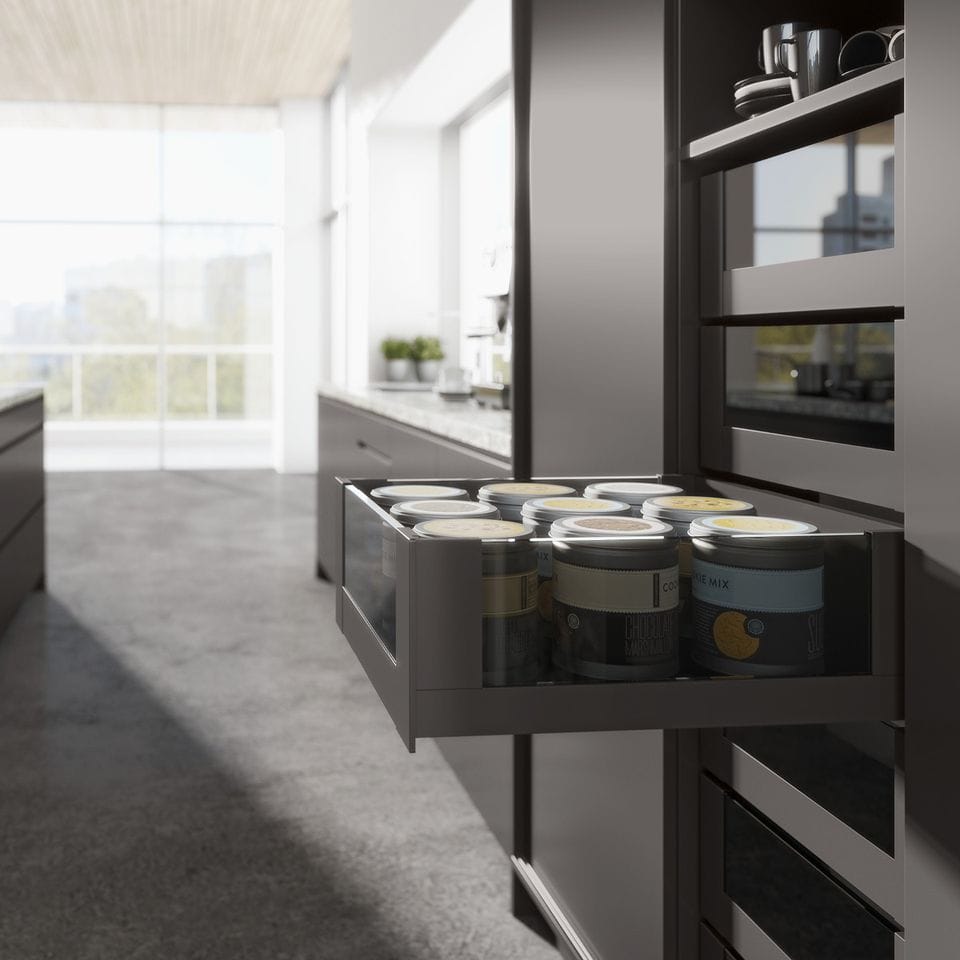 The kitchen is often seen as the heart of a home. One easy way to maximise space in this area is to use drawers, as opposed to regular cabinets.
There are several advantages to using drawers:
Ease of use: most kitchen cabinets are over half a meter deep. With a regular cabinet door this presents a challenge as items are lost in the back of cabinets. Who wants the hassle of pulling everything out just to get to one serving dish? Drawers solve this problem by effectively bring the back of the cabinet into the light.
Organisation: doored cabinets are basically giant boxes – often resulting in a haphazard jumble of stuff. Drawers allow for the use of clever dividers allowing everything to fit neatly into its own spot.
Efficiency: Drawers maximise every square centimetre – fitting more stuff into the same space.
Style: The right drawers can add a touch of class, be it colour, shape or pleasing reliable running action allowing for extra wide drawers.
There is one drawer system that can satisfy the advantages above better than any other. The new AvanTech YOU drawer from German hardware producers Hettich.
Hettich was founded in 1888 and is today one of the world's largest and most successful manufacturers of furniture fittings. Over 6,700 members of staff in almost 80 countries work together towards the objective: developing intelligent technology for furniture.
Hettich work with some of the most well-known quality brands in the industry – Nobilia (the largest German Kitchen manufacturer) have been partners with Hettich for years – Poggenpohl have also recently partnered with Hettich.
AvanTech YOU can be configured with YOU in mind. AvanTech YOU can provide a huge amount of design flexibility in terms of colour, shape, and material, giving you the key to successfully turning your own furniture design ideas into reality.
Give your furniture unmistakable character that expresses YOU. Slim sides maximise usable space. High quality heavy loading runners allow for large drawers that are easy to open and access, that quietly slide away when not needed. Push to open versions allow for an ultra-sleek finish. A great range of accessories allow drawers to be organised elegantly and efficiently.
Your Process Benefits, Your Opportunities
Design Meets Functionality
All the benefits of a system drawer integrated in the drawer side profile
Adjustment and assembly system hidden from view behind the drawer side profile's immaculate, purist design
Design diversity and flexibility from designer profiles, DesignCapes and a variety of inlay materials
Runner platform for a wide range of applications
Precision, Safe Adjustment
Easy vertical and lateral adjustment (unique exterior decor sliding mechanism)
Safe detachment of the front panel (retaining position)
Simple, tool-less installation of the front panel
Easy drawer tilt adjustment with access from above (dual function of the designer profile)
Intuitive Installation
Convenient, practical rear panel installation (one-dimensional jointing direction)
No need for any bottom panel machining
Bottom panel can be screw mounted or stapled on
Bottom panel width = rear panel width · No catches need to be fitted
For more information click here.
N.A.A are proud distributors of Hettich for over 25 years in Ireland. We would like to invite you to visit our showroom at Crosslands Business Park, Lower Ballymount Road, Dublin 12, D12 E292.
If you are interested in becoming an exclusive AvanTech YOU provider please contact info@naa.ie or call (01) 4600064.