Whilst construction output in is unlikely to reach pre Covid-19 levels, it is expected that development in 2021 will significantly exceed 2020 levels. John O'Regan, Director at AECOM Ireland said:
"Despite the challenges associated with the dual impact of the Covid-19 and Brexit, the projected growth rate of 15% for 2021 highlights the industry's resilience at the moment. While the first lockdown was very difficult, as an unanticipated event, the sector is now more prepared to effectively manage the associated challenges related to materials, cost, and logistics."
This growth rate means that the increasing demand for customised kitchen, living and bedroom designs is set to continue. There is a trend for individuality impacting every aspect of our lives – our furniture is no exception. Some like the sleek modern look with the multitude or new thin surfaces available. Some like the look and feel of traditional furniture, with thick panels. One thing everyone likes is functionality and reliability.
Sometimes it is the most subtle changes that can make the biggest difference to the look and feel of an individual's design. The little things matter. A high-quality kitchen will always have a high-quality finish and a general rule to remember is to look at what's on the inside, not the outside. Looks can be deceiving. It's easy to overlook the small details like drawers, running systems, inserts, lighting, and joinery. A particularly popular addition, that all quality designers and fitters are turning to in contemporary kitchen creation, is that of soft close hinges.
Why Use Soft Close Hinges?
A more pleasant experience
Soft close hinges are getting so popular that one day, we might find that most households have them. However, at the moment, this particular type of fitting comes as a pleasant surprise to most visitors. Soft close hinges not only impress due to the level of attention to detail they represent, but there is also something pleasurable about the elegance with which they help unit doors to glide shut with little to no assistance and greatly reduced noise!
Peace and quiet
Doors slamming can add to feelings of stress, particularly in busy households. If you have multiple people doing different things all at once in the kitchen, it can be a distraction. The slamming of kitchen doors can provide a deafening and irritating backdrop to whatever you're doing. However, with a soft close hinge, the amount of noise made is greatly reduced allowing for a much more relaxing experience in the kitchen.
Safety
The safety element of soft close hinges is particularly important for households with small children, as they are particularly at risk of getting their hands trapped in the doors. However, this feature can benefit the whole family. The mechanism that the hinge is fitted to heavily reduces the speed with which your kitchen cabinets will close, more time is afforded to get hands out of the way, and the door itself will close with less force – resulting in fewer and far less serious injuries should fingers get trapped.
Wear and tear prevention
Some of the furniture in your home that has heavy use daily is ultimately going to require some maintenance and possible replacement. However, because soft close hinges dramatically lessen the impact with which the leaf of each door meets its frame, the damage will be dramatically reduced and you will find that all of your fittings will stay in good condition for that little bit longer, saving you unnecessary expenses. (Kitchen Warehouse, 2020)
The Hettich Sensys soft close hinges are the premier hinge in the global market and have it all. The ability to deal with almost all applications, thin composite, thick timber, glass – whatever the material Hettich will have the solution. Hettich provide top quality German made hinges with clever mounting and adjustment capabilities. The Sensys soft close hinges are particularly easy to fit and adjust. The multiple award winning Sensys hinge has revolutionised the world of hinges with its invisibly integrated Silent System that is always on.
With an unrivalled working temperature range, market leading wide-angle closing, and design aesthetics it is no wonder that Hettich are the number one hinge in the German furniture market.
N.A.A Ltd are the exclusive supplier of Hettich in Ireland and, in order to let you realise the benefits of Sensys, we are offering a once off promotion.
Simply purchase 200 hinges and 200 mounting plates and you get a Drill Jig free of charge:
200 x Sensys soft close hinges – 9073567
200 x Sensys 2-part adjustable mounting plates – 9071656
1 free Drill Jig
Sensys hinge – 9073567 Technical specifications
Sensys 110° hinge
With integrated Silent System, with self-closing feature (Sensys 8645i)
Quality classification under EN 15570, Level 3
Opening angle 110 °
For door thickness 15 - 24 mm
Door mounting option overlay
Drilling pattern TH 52 x 5,5 mm
Cup depth 12.8 mm
Installation with expanding sockets
Integrated overlay adjustment +2 mm / -2 mm
Integrated depth adjustment +3 mm / -2 mm
Height adjustment at mounting plate
Steel nickel plated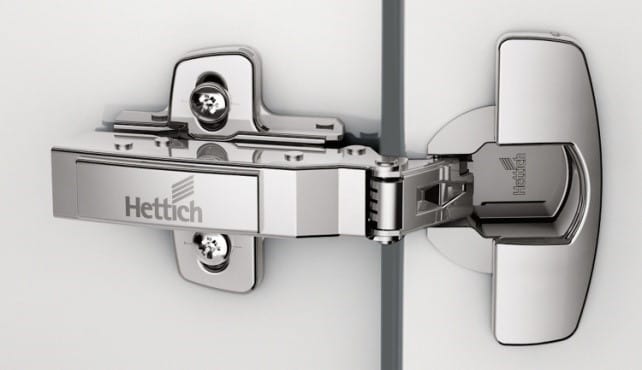 Sensys Mounting Plate – 9071656 Technical specifications
cross mounting plate with Direct height adjustment
For Sensys and Intermat
Quality classification under EN 15570, Level 3
For Hole line 37 x 32 mm
Installation with expanding sockets (for drilling ø 5 x 12 mm)
Distance 1.5 mm
Adjustment range + 2 mm / - 2 mm
Steel nickel plated
Hinge Drill Jig – 0020165
For precision installation of hinges on one off, or custom-made, items or for retrofitting furniture doors at the customer
Precision, clean, angled hole drillings
Carbide tipped drill bits
No "running away" of the drill bit when drilling half moon drillings
Precision, clean hole drilling for hinges and mounting plates
Hand drills or cordless screwdriver required
The Drill Jig Hinge can be used for mounting the following hinge and mounting plate ranges:
- Sensys, Intermat, SlideOn, Selekta Pro 2000, Selekta Pro 2035

If you would like to avail of our offer, please get in touch on 01-4600064 or info@naa.ie.