When fitting out a home there are always a multitude of things to consider. The time the project will take, quality of the fittings you choose, ensuring your choices reflect your personal style and finally the functionality of it all.

Hettich have taken each of these elements into account when creating the AvanTech You drawer and in doing so have created a drawer that not only caters to the needs of the end user but also to the needs of the fitter, making this drawer one of a kind, just like you.
For the average homeowner, when fitting out a home, most of us are trying to create a space that aligns with your functional needs and reflects your own personal taste. However, so much of the time you can end up with a generic look that, unfortunately, just seems repetitive.
With AvanTech You, Hettich have created a customisable thin sided drawer that is as individual as you.
With three colours available as standard (Anthracite, Silver & White) you can create a drawer to suit any room in your home. This colour can then be reflected or contrasted by the finishing strip on the top of the drawer sides. This strip can be removed and changed to a variety of colours available to suit your own style requirements.
However, your style doesn't have to stop there. Maybe you like options, maybe you've changed the decor of your room but don't want to change your drawers as well. Enter the DesignCape. With two colours available in both Champagne and Stainless Steel, these brackets can be simply clicked on to the side of the drawer to add an entirely new look to your drawer system and of course, your home.
Lastly, to add to the elegance of these drawers is the subtlety of the mechanics at play. All the adjustments for the AvanTech You drawer are hidden in the pullback sides meaning that, on opening, all the viewer sees is the beautiful colour chosen to match your home.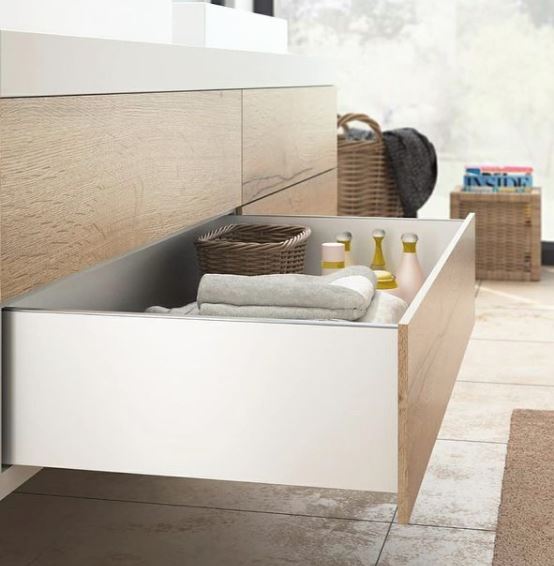 Although finding a drawer to match your aesthetic can be a priority, this all means nothing if the drawer itself cannot perform functionally.
Fear not with the AvanTech You! Firstly, the thin sides of the AvanTech You not only add to the sleek look of the drawer but they also utilize the space of the drawer to the full width available. To add to this, all depths are available from 270mm - 650mm while Heights available are: 77mm, 101mm, 139mm, 187mm & 251mm. This wide range of availability means that whatever your drawer needs AvanTech You can be made to meet them. 
Like most of us however, drawers can often get over utilised and the temptation to create a "junk" drawer usually comes to us all. These Junk drawers however have to be able to handle a heavy amount of junk and AvanTech You is just the drawer for the job. With a choice between drawers that can handle either 40kg or 70kg of weight, these smooth-running drawers actually perform better the closer you get to the weight load! Meaning you can say goodbye to house clutter and hello to maximum storage space!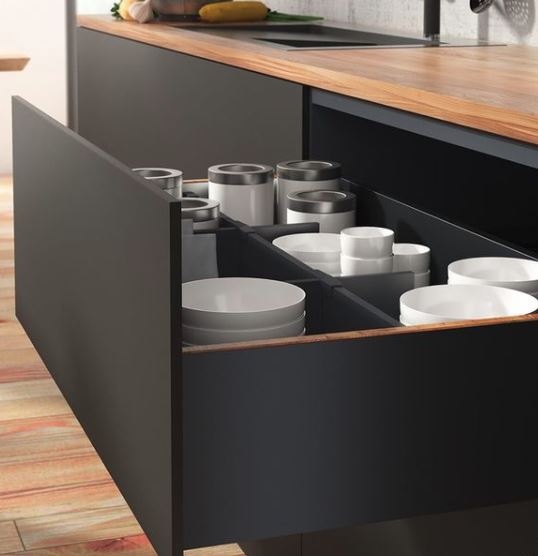 This all might sound like a homeowner's dream but for a manufacturer it can sound like a lot of work when it comes to installation. However, like everything else with AvanTech You, the design has been made with you in mind.
To begin with, the base and back of the drawers are the same width making it much easier and time effective to manufacture. Another clever feature of this design is that there are no back brackets needed for fitting, simplifying the manufacturing process further. However, to meet the needs of the maker as thoroughly as possible, the AvanTech You drawer also has steel backs available, plus an easy-to-use front panel, that can be cut to size to meet each maker's specific requirements thus creating a simple, tool-less installation of the front panel.
Finally, as the ultimate contributor to a time saving and smooth process, Hettich have created simple jigs which are available for manufacturing and ensuring an uncomplicated and time efficient process as possible. 
All of these features combined creates a product that not only provides an intuitive Installation system but ensures that the needs of every individual and home are met and exceeded.
N.A.A are proud distributors of Hettich for over 25 years in Ireland. We would like to invite you to visit our showroom at Crosslands Business Park, Lower Ballymount Road, Dublin 12, D12 E292 where you can view the AvanTech you for yourself and marvel!
If you are interested in becoming an exclusive AvanTech YOU provider please contact info@naa.ie or call (01) 4600064.