HETTICH SLIDELINE M.
SLIDE IT. LOVE IT.
Hettich's Slideline M is a sliding door system for modern furniture design.
SlideLine M provides the capability of combining open and closed sections in furniture. The 1-track, close fitting sliding door system functions as a practical design element on living-room wall units, shelf systems, kitchen wall units and bathroom furniture. Just one profile can be used for running two doors fitted one above the other.
Optional soft-close Silent System is integrated to leave it hidden out of view and the activation point can be positioned wherever chosen.
ERGONOMICS
Always in reach. Never in the way.
In terms of ergonomics and convenience, sliding doors are a cut above any other door system. That's clear to see in everyday use: open sliding doors don't get in the way where space is at a premium. Open doors on wall units are not likely to leave you injured. Sliding doors are also easy to open without stretching or dodging out the way.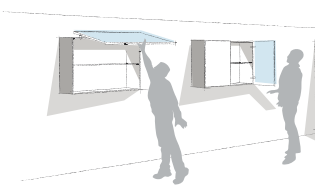 DESIGN
Unadulterated form. Distinctive surfaces.
Sliding doors provide the key to picking up on modern, spacious interior design and cleverly carry it through in furniture. Because large surface doors, particularly with flush fitted sliding door systems, are the ideal creative element for purist interior design. Hettich sliding door systems impress with narrow reveals that hardly detract from the homogeneous look of furniture fronts. Only a few reveals are visible on large format fronts anyway; elegant fascias reduce the number of reveals to a minimum. Easy precision adjustment provides superb finished results with perfect gap alignment.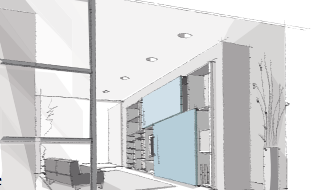 FUNCTIONALITY
Easy to begin with. Then quiet.
Sliding doors are particularly good at meeting the demands users place on cabinet doors today: they are easy to open and close. The ergonomic benefit of linear door movement is optimised further still by low opening forces. Convenient Silent System closes the sliding door quietly and gently. Altogether, Hettich sliding door systems leave no margin of doubt with reliable quality, superb smooth gliding action and long life.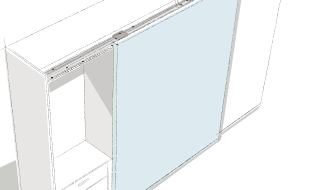 DESIGN IN MOTION
SlideLine M upgrades the practical value and design of furniture: living room units and shelf systems, kitchen wall units, bathroom furniture and office cabinets. The versatile system is ideal for all common furniture constructions. Wooden / glass or aluminium framed door weighing up to 30 kg can be installed quickly and easily. Profiles are available for several shelf thicknesses. Letting doors slide past each another in one profile isn't a problem either. The Silent System is integrated in the running component and slows doors down in closing, opening and colliding direction.
TECHNICAL DETAILS IN BRIEF
Single track bottom running sliding door system
Wooden, glass or aluminium framed doors
Doors weighing up to 30 kg
Shelf thicknesses 15, 16, 18, 19, 22, 25, 38 mm
Height adjustment +/- 2 mm
Silent System in closing, opening and colliding direction
Fast installation of front without need for tools
Tested to DIN EN 15706
Get in touch if you have any questions on any of our products. We are here to help.
Call Allen Paul on 087 144 9363 or email at allen@naa.ie