Never defrost your freezer again with Liebherr's No Frost Range of refrigeration. Comfort and long-term freshness:
NoFrost - efficient cooling performance in professional quality.

Liebherr have launched a new and affordable NoFrost Range of fridge freezers. These appliances are extremely energy efficient, with A++ energy ratings, DuoCooling and key electronic controls and pricing start from only €499 (RRP).
The 'NoFrost' system from Liebherr provides rapid, fan-assisted, frost-free freezing for the safe, long-term storage of food. The NoFrost technology creates a much larger storage capacity and keeps the freezer constantly frost-free to make defrosting a thing of the past.
With sophisticated comfort combined with innovative cooling technology, Liebherr appliances guarantee professional-quality refrigeration. The use of state-of-the-art electronic controls and optimally adapted cooling components make Liebherr's NoFrost freezers not only energy-efficient, but also offer professional cold quality and no-defrosting comfort.
Features Include:
Accurate and independent temperature control of the refrigerator compartment and freezer compartment of combined fridge-freezers is achieved through DuoCooling with two separate cooling circuits. And there is no air exchange between the refrigerator and freezer compartment. This prevents odour transfer and stops the stored food from drying out.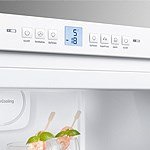 The precise electronic control system is fitted with a digital temperature display and provides information about the settings that have been made.
Featured No-Frost Products

Check out myliebherr.ie for the full range of Liebherr appliances. Find a dealer near you using our dealer locator.
If you have any queries, please email liebherr@naa.ie or call us on 01-4600064.