Sustainability has been defined as the "avoidance of the depletion of natural resources in order to maintain an ecological balance." According to Forbes, Nielsen published its annual Global Corporate Sustainability Report which indicated that, globally, 66% of consumers are willing to spend more on a product if it comes from a sustainable brand. Millennials gave an even more impressive showing, with 73% of surveyed millennials indicating a similar preference. Additionally, 81% of millennials even expect their favourite companies to make public declarations of their corporate citizenship.[1]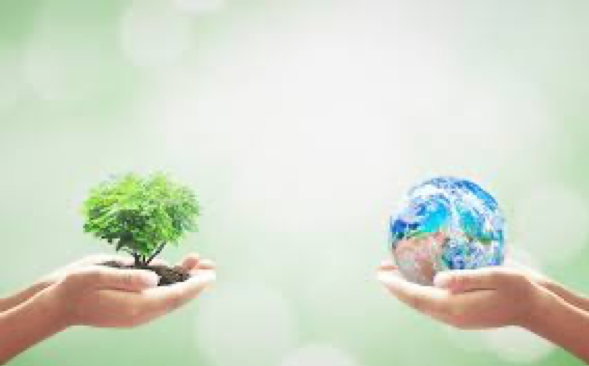 In the years leading up to 2020 many global brands committed to 2025 and 2030 sustainability targets. 2020 represents a significant strategic turning point for both these companies and global sustainability. The minority of companies, that are in a reactive state to these commitments, will no doubt follow suit by making sustainability commitments in the near future, or risk being eclipsed by their competitors and disregarded by their evolving customer base.
Sustainability in packaging has gone from a niche goal of a few small companies to a global phenomenon. Recently McDonald's announced its packaging will be 100% renewable and recycled by 2025, I believe this is a direct result of millennials pushing brands to become more socially and environmentally responsible.[2] Nestle also boasts an impressive eco-friendly resume, with actions such as systematically reducing the weight of their packaging since 1991(with a reduction of over 500 million kg to date), and utilising a team of over a thousand agronomists to provide training to their farmers to minimise their environmental impact.[3]
Many companies and consumers look at sustainable packaging through a very narrow lens, which is the materials used (e.g. cardboard, plastic, glass etc.). However, the scope of sustainability has a far wider reach and the impact of these additional materials should not be underestimated.
Packaging adhesives can make a significant, positive contribution to the sustainability benefit of packaging solutions. Adhesives play an important role in various aspects of sustainable packaging and the best overall solution generally depends on the application, regulations, and regional/country specific requirements.
Christine Vidal, dedicated geographic sales manager for H.B. Fuller Packaging Solutions in France, explains:"The trend toward more sustainable packaging solutions is clear, and suppliers to the packaging industry can play a pivotal role in making it happen. At H.B. Fuller, we believe success lies in combining sustainable packaging materials with innovative adhesive technology, in particular the use of low temperature hot melt adhesives."[4]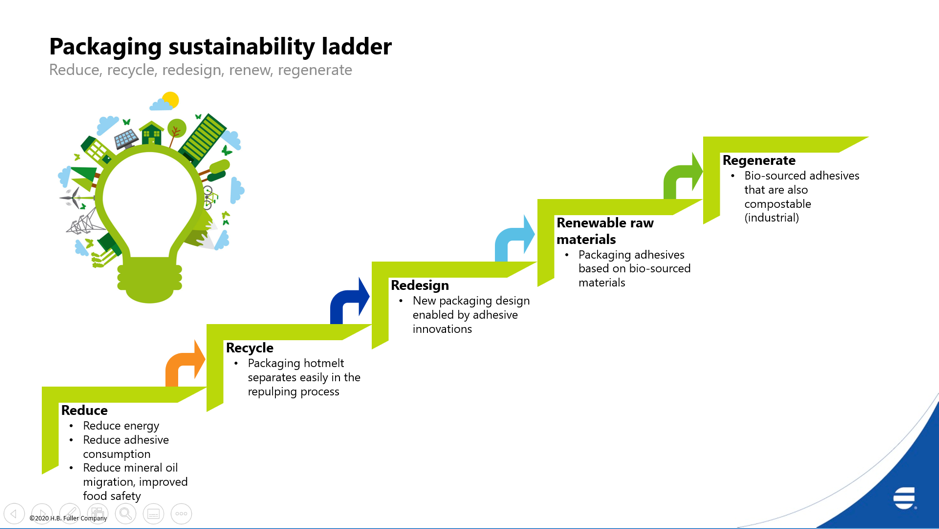 As packaging manufacturers search for more sustainable case and carton closing options, H.B. Fuller has introduced low application temperature hot melts, such as Advantra® LT9110 and Advantra® LT9153. These products have helped customers to achieve energy savings, while also improving safety and performance efficiency.
While standard hot melts are applied at a range of 160 to 175 degrees Celsius, low application temperature hot melts are applied at a range of 110 to 135 degrees Celsius. Low application temperature adhesives are best used with automatic feeder technology to reduce risk and manual handling. If a burn should occur, the severity will be reduced due to the lower temperatures. Plus, lower temperatures are easier on the equipment, prolonging their useful life.
By maintaining hot melt tanks at a lower temperature, you will consistently use less energy than with traditional hot melt technology. Depending on the energy source, this energy saving can translate directly into carbon dioxide savings.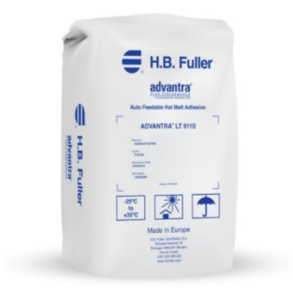 In an independent study, H.B. Fuller compared the energy usage of adhesives at 100, 130 and 170 degree Celsius. When measuring the energy usage of the packing line equipment from when it was started to when it was ready for operation, they found that it takes 134% more energy to prepare adhesives at 170°C than 100°C. Also starting up a line running at 100°C in the tank takes half the time.
The patented low application hot melt adhesives are versatile and work with a wide range of substrates. In an effort to help customers improve efficiency on their lines, our adhesive technology is designed to close more cases and cartons with less adhesive.[5]
How Advantra low temperature hot melts benefit our customers sustainability goals:
Improved efficiency: Significant adhesive consumption savings using H.B. Fuller patented technology
Energy savings: the new adhesives range can reduce energy consumption by up to 28%
Carbon footprint impact: Our adhesives low temperature approach will improve your Annual environment report and reduce C02 emissions
Safety optimisation: reduce tank hot melt temperature from 170°c to 100°-130°c; leading to significantly reduced severity of burns, if they occur
Maintenance cost optimisation: our product will prolong the equipment life and allow some maintenance planning optimisation
For 130 years, H.B. Fuller has been a leading global adhesives provider focusing on perfecting adhesives, sealants, and other specialty chemical products to improve products and lives.
N.A.A Ltd are proud to be distribution partners with H.B. Fuller in Ireland and associated with the >$1.5m in annual employee and company donations in over 30 countries worldwide. Together we will continue to combine our global reach with our local expertise to create innovative adhesive solutions tailored to help our customers achieve their sustainability goals.
For further information please feel to contact me at luke@naa.ie. Alternatively, you can visit our showroom at Crosslands Business Park, Lower Ballymount Road, Dublin 12, D12 E292. For any other enquiries you can email info@naa.ie, call (01) 4600064 or visit our online shop on www.naa.ie/shop/.
Footnotes
[1]
https://www.forbes.com/sites/sarahlandrum/2017/03/17/millennials-driving-brands-to-practice-socially-responsible-marketing/#69961fd4990b
[2]
https://www.nestle.com/media/pressreleases/allpressreleases/full-year-results-2018
[3]
https://packhelp.com/sustainable-packaging/
[4]
http://www.convertingtoday.co.uk/news/newshb-fuller-at-cfia-show-5751243
[5]
https://www.hbfuller.com/en/north-america/products-and-technologies/markets-and-applications/packaging/sustainable-packaging-solutions/advantra-low-temp