Did you know that according to a study conducted by Marks and Spencer, women take, on average, 17 mins per day to choose an outfit?
A wardrobe could possibly be the most understated item in your bedroom, but funnily enough, it is also one of the most important pieces in terms of functionality and design. Most people do not realise the negative impact a deficient wardrobe insert can have on their stress-levels. Opening your wardrobe is one of the first things you do in the morning, meaning your first steps into the day could either increase or deflate your mood. The right wardrobe inserts and accessories can enhance your morning experience whereas the wrong one could negatively impact your day before it even begins.
The time it takes to pick an outfit
Marks & Spencer conducted a study of 2,000 men and women about the length of time it takes to choose an outfit, and they found that it takes women, on average, 17 minutes each morning. It may not sound like a lot but once you add that up over the course of a year, it equates to 4 full days (or 6 months) of their working lives!
The poll revealed that 62% of women admitted to having 'irrational tantrums' in the time that it took that to find an outfit. 21% said they have argued with a partner over the stress of picking an outfit. In contrast to women, the study also found that men spend, on average, 13 minutes picking their outfit each day
In line with this finding, the survey revealed that men spent less time sorting out an outfit (13 minutes) but 20% admitted they have thrown their clothes in anger because of not being able to find the right piece of clothing.
Ireland has one of the most changeable climates on the planet and an Irish person's wardrobe must include various clothing options that align with the dual factors you will meet when outside. Wardrobe inserts will need to offer innovative solutions that will streamline your busy morning outfits search by providing a bird's eye view of clothes that can be retrieved quickly. These factors do not have to be a problem, not with the perfect wardrobe inserts and accessories designed for your needs.
The perfect wardrobe insert consists of:
Hanging rails
Pull down rails
Drawers
Extra internal storage areas (baskets and trays or shoe racks)
Vibo Spa provide the perfect wardrobe inserts intricately designed to deliver a positive experience when picking out outfits each day – ensuring you can find what you need, when you need it.
Frames
Vibo Italy frames are extremely resilient and visually pleasing to the eye. They are arranged to contain various solutions for baskets and trays. They boast a soft closing mechanism and full, or partial, extension. The frames adapt to every kind of need in terms of space and ease of use. Furthermore, there is a great variety of finishes available to make your wardrobe design match your bedroom aesthetic.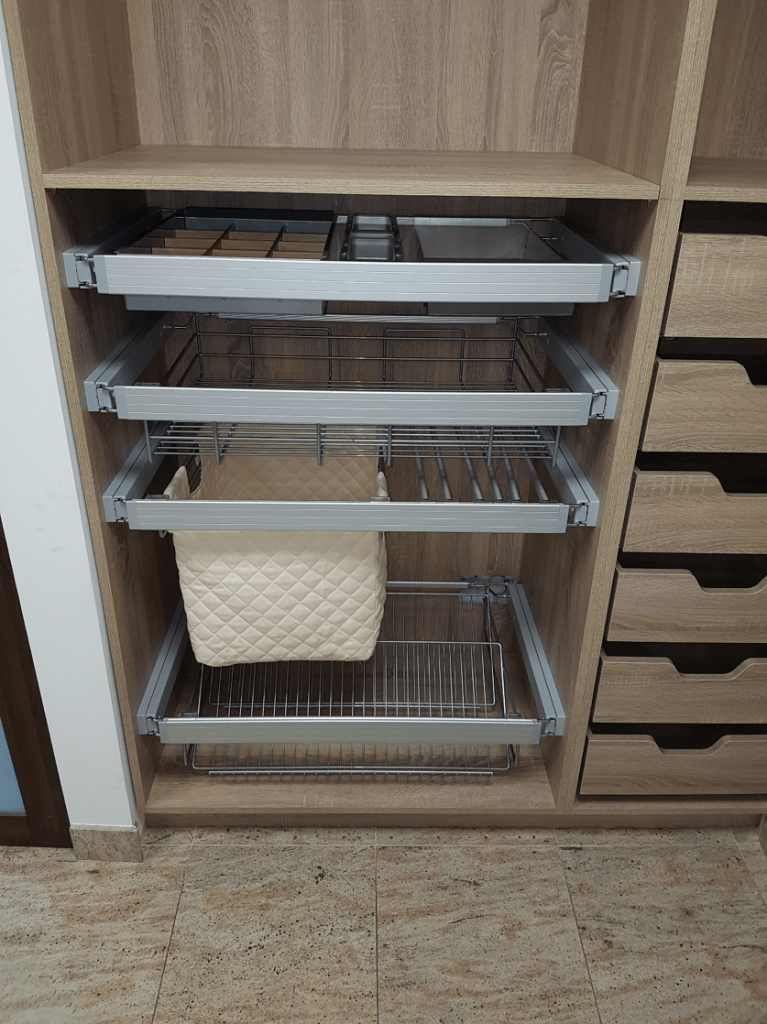 Hangers
Vibo Spa's series of hangers deliver solutions of ample space and storage. The hangers allow you to keep your clothes cleaner, in order, and wrinkle free – they will smell fresher too!

The gas constructed spring mechanism makes the movement particularly smooth as it is equipped with an invisible kinematic mechanism and a gear of variable motion. Moreover, there is the possibility to adjust the incline, if required.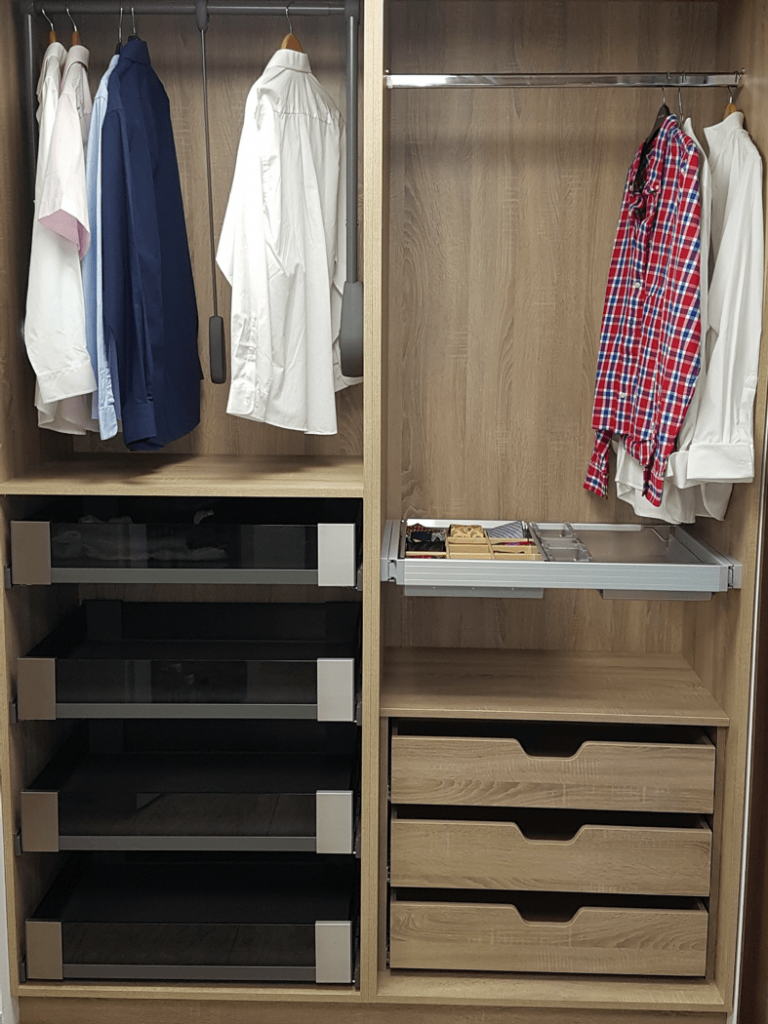 Containers & Accessories
Every wardrobe required drawer space and Vibo Spa's multifunctional drawers are designed to store objects and personal accessories, or something more specific such as shoe racks. All products are distinguished with outstanding detail and finishes, and they are undeniably sturdy, and made to last. All of the Vibo accessories are developed for ease of use with the customers needs in mind.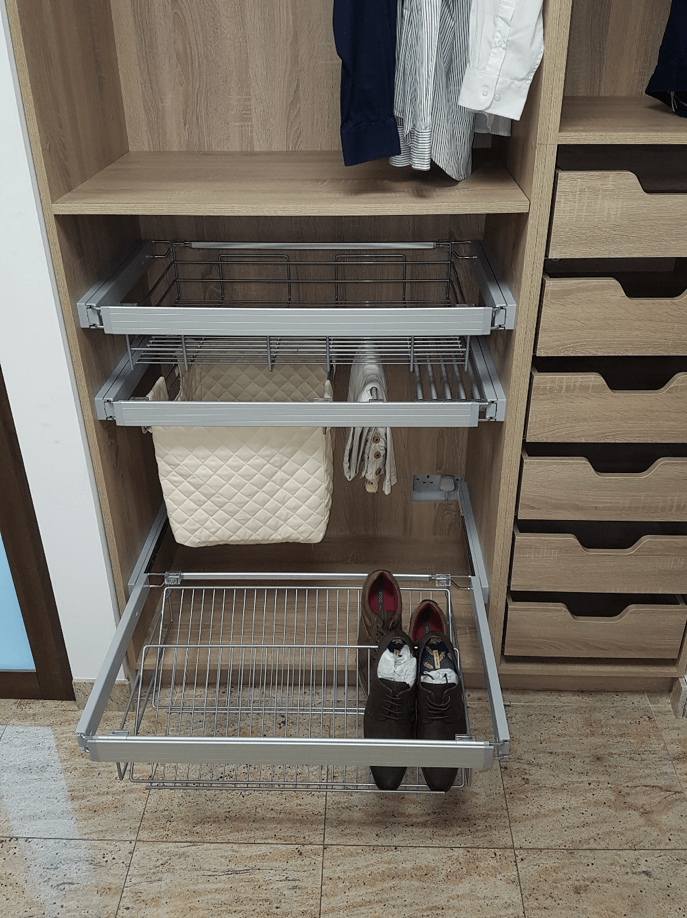 Design your Space
The right wardrobe accessories are the epitome of perfection; elegant and well-designed. Disorganised wardrobes need action and Vibo Spa integrates great design with fully functional and practical solutions to achieve your dreamiest wardrobe accessory goals.
N.A.A Ltd are proud distributors of Vibo Spa and we invite you to view our products online or you can visit our showroom at Crosslands Business Park, Lower Ballymount Road, Dublin 12, D12E292.
For more information, call or technical expert David Hayes on 087- 1761441 or email info@naa.ie.